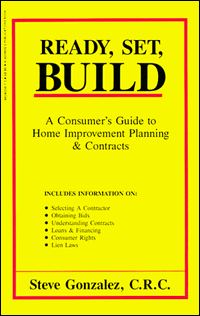 An easy-to-read reference covering project planning, loans, financing, and construction contracts. Topics include how to obtain competitive bids, when and why subcontractors are used, and how to effectively coordinate with an architect. Ready Set Build is essential reading for the do-it-yourselfer as well as those hiring a builder or contractor.
Trade paperback, 5.5 x 8.5,
112 pages.
ISBN 0963764179,
CIP 93-17327.
Price: $9.95 (FL residents add 6% sales tax) + $3.95 media mail shipping, $5.95 priority mail.
Order this title now